Sticker Kalis Air Untuk Usahawan Produk
Rata-rata usahawan makanan pasti tanya kami tentang sticker kalis air untuk usahawan produk makanan mereka. Kenapa mereka sibuk sangat nak kan sticker kalis air ni ? Golongan usahawan makanan yang mana perlu tahu dan tempah sticker kalis air? Berminat nak tahu lebih lanjut ? Teruskan membaca artikel yang paling bermanfaat ini.
clear stickers or transparent sticker are perfect for windows, bottles, as product labels or simply as a way to give your stickers a unique look.
Apa, kenapa, dan mengapa 3 soalan keramat usahawan perlu tahu
Sticker kalis air untuk usahawan produk apa?
Siapa yang perlu tahu tentang sticker kalis air? Jawapannya adalah semua usahawan produk.
Tak kisah anda meniaga apa anda perlu tahu ilmu ini. Sticker kalis air untuk usahawan produk makanan. Kebanyakkan produk makanan akan memasarkan jenama mereka menggunakan chiller lebih lebih lagi jika mereka menawarkan prduk sejuk beku ( frozen food ) seperti karipap frozen atau kek. Usahawan air juga perlu tahu kelebihan sticker ini.
Kenapa sticker kalis air untuk usahawan produk makanan?
Usahawan produk makanan pasti tak mahu kalau jenama mereka hancur akibat ancaman air atau wap kan. Oleh itu anda perlulah melaburkan wang sedikit lagi untuk menempah sticker kalis air ini.Terdapat 4 jenis sticker kalis air yang ditawarkan oleh FLEXISPRINT
Transparent Sticker
Clear Sticker
White Sticker
Pvc Sticker
Great Product Great Price . The stickers looked great and the price was just right….lots of compliments on them. – review customers
Mengapa tempah sticker kalis air untuk usahawan produk di FLEXISPRINT?
Di FLEXISPRINT kami menawarkan perkhidmatan percetakan sticker yang berkualiti setanding dengan kualiti produk usahawan itu sendiri. In House Production yang diperlopori oleh anak jati Malaysia sendiri. Setiap tempahan sticker anda kami akan proses di unit production kami sendiri bermula dari printing hinggalah pemotongan.
Cepat dalam pengurusan tempahan anda. Harga pasaran yang berpatutan dan murah di Shah Alam.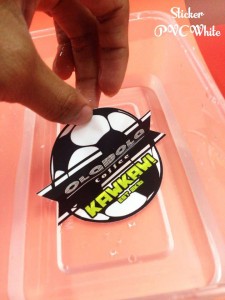 Dengar cerita FLEXISPRINT sekarang ni tengah buat promosi untuk produk sticker kuih raya ni. Nak dapatkan promosi hebat dari mereka?
Kalau nak tempah sticker kuih raya 2018 boleh terus ke StickerProjek.com dan masukkan code STICKERRAYA18 .