Dimana Nak Tempah Business Card Cepat Siap
Pasti buntu kat mana nak tempah business card cepat siap yang murah dan berkualiti. Memang banyak kedai printing di kawasan sekitar Lembah Klang ni, tapi nak cari yang betul betul boleh siap cepat ni kurang, seperti satu dalam seribu. Kini Tuan/Puan tak perlu gundah gulana lagi. FLEXISPRINT boleh mencetak business card Tuan/Puan dengan cepat.
Kenapa Perlu Tempah Business Card  Cepat Siap Di FLEXISPRINT
Semua Usahawan Nak Tempah Business Card  Cepat Siap
Sememangnya di FLEXISPRINT Tuan/Puan boleh tempah Business Card yang cepat siap. Sebagai seorang usahawan, business card adalah pengenalan anda. Perasan atau tidak, semakin cepat business card Tuan/Puan habis semakin kencang perniagaan anda.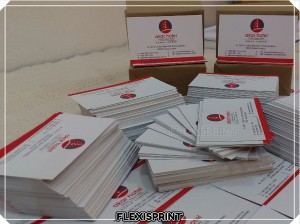 Nilai satu urusniaga jutaan ringgit bermula dari sekeping Business Card. Ianya diterjemah sebagai satu penjenamaan, komitmen dan kepercayaan di antara pelanggan dan Tuan/Puan. Oleh itu semua usahawan perlulah bertindak pantas dan memilih kedai printing yang boleh cetak business card dengan cepat.
"The entrepreneur always searches for change, responds to it, and exploits it as an opportunity."—Peter Drucker
Kualiti Cetakan Business Card Sangat Penting
Apabila kita memberi kad nama ( business card ) kepada prospek semestinya kita mahukan first impression yang terbaik dari mereka. Sebab itu syarikat gergasi melaburkan wang sehingga ratusan ringgit hanya sekadar untuk mencetak beberapa kotak business card.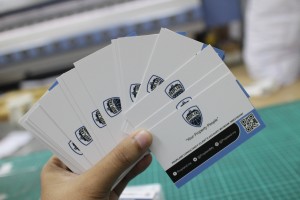 Your business card is a physical object that potential clients can take with them that keeps you or your brand from just being a name that floats around in the ether.
Promosi Tempah Banyak Jimat Banyak
Apabila bercakap tentang perbelanjaan mesti semua orang memilih untuk lebih jimat. Satu langkah bijak yang Tuan/Puan perlu lakukan adalah memilih FLEXISPRINT sebagai pencetak business card Tuan/Puan.
Tempah tiga kotak business card pada harga RM35 sahaja. Tuan/Puan akan terima business card yang berkualiti tinggi. Material yang kami tawarkan adalah Artcard with Matte/ Gloss laminate. Cetakan  berwarna (full color) di bahagian depan sahaja.
Apabila kita buat sedikit kira kira cost perbelanjaan 1 kotak cuma RM11.66 sen sahaja. Sedangkan jika Tuan/Puan tempah 1 kotak sahaja dengan kualiti yang sama cost perbelanjaan menjadi RM30. Mana lagi jimat? Beli 3 kotak kan.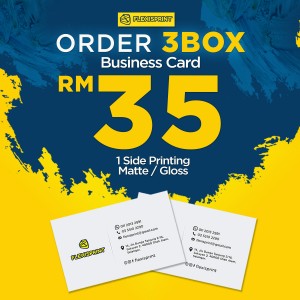 Jangan Buang Masa!
Dapatkan Business Card Tuan/Puan sekarang. Hubungi kami di
FLEXISPRINT Seksyen 2
Hotline
YAYA : 013 221 2240
FARAH : 011 2013 2991
FIQA : 011 3510 2290
TEL : 03 5510 2290
EMAIL : flexisprint@gmail.com
.
.
FLEXISPRINT Seksyen 13
Hotline
ATIRA : 011 3296 3966
KIKI : 011 3570 2296
TEL : 03 5523 9119
EMAIL : flexisprint13@gmail.com